_Sponsors_
___ ______
Error
| | | | |
| --- | --- | --- | --- |
| Unit 3 - How expensive is France? | | | |
Written by Administrator
Friday, 11 May 2012 11:05
Unit 3 - How expensive is France?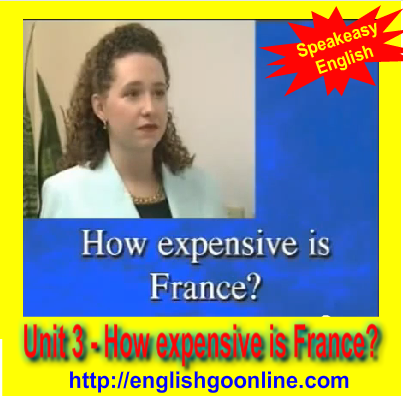 __ ___
1. Introduction  Unit 3:
Unit 3 - How expensive is France? - This is a lesson from http://englishgoonline.com for beginner to learn English. In this lesson, you will learn the ways to say about a plan for traveling to France. Such as:
- How are you going to France?
- How long will you stay?
- How expensive is France?
- How much is your hotel?
- How far is your hotel  from Paris?
- How much is the train?
2. Let's Watch Video: Unit 3:
3. Link download Unit 3 from Youtube
:
=========================http://Englishgoonline.com=====================
Last Updated on Friday, 11 May 2012 11:30
________
_____
Login
Who is online?
We have 29 guests online
add
If you don't see anything in the middle of this page, you may need the latest Flash plug-in.
It only takes a few moments to
Download it FREE at Adobe.com.

Home || Misterduncan|| Flash Cards || Songs For Kids|| Free Games || Learn English with GOGO|| Teaching English For Childern|| ESL/EFL Kids Course || Designed by Learning English Online. Designed by: Joomla Template, web hosting. Valid XHTML and CSS.